You're Invited!
All are welcome! Bring your friends! Bring your neighbors! The Winter Beach cemetery clean up is this Saturday the 22nd. See the flyer and Facebook event page for the rest of the details. Click here to join the Facebook event!
When? Where?
When: February 22nd, 7:30AM to 4PM
Where: Winter Beach Cemetery located at 71st St, Vero Beach, FL 32967, USA
Quote from the event page
"This clean up is to focus cutting back the perimeters, picking up yard debris and trash, loading trailer to go to the dump. Section A needs trimming etc. Please bring whatever will help you get the job done. Clippers, mower, weed eaters etc. All welcome. Water and light snacks provided"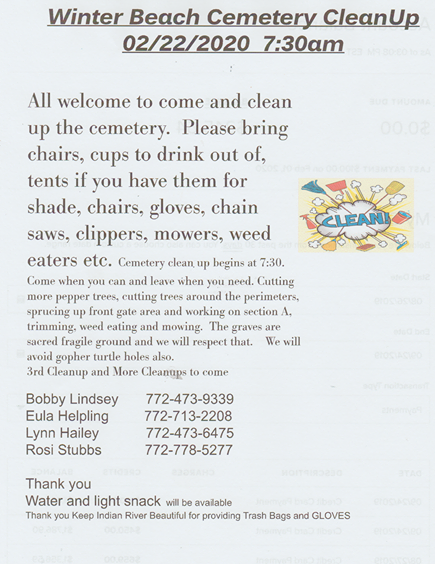 A Community Stands Stronger Together
If you have an event you would like to share, reach out and send it to us!